Published on May 26, 2023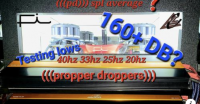 One of our judges (Joe) has been chatting back and forth with a bass head in America and persuaded him to try the (((pd))) test on his monster setup!
Considering its tuned higher than we would he's managed an average of over 160db in what looks like a Walled+ setup.
Show this guy some love by liking and subscribing to his video. Write a comment too now that he's one of us!
https://www.youtube.com/watch?v=vMXN1NL1SJU

.